Bwahahaha!
Oh, gracious, this one is crazy. No, really, it's a crazy story.
Somewhere along the way, "Penguin" and "Heist" must have become synonymous...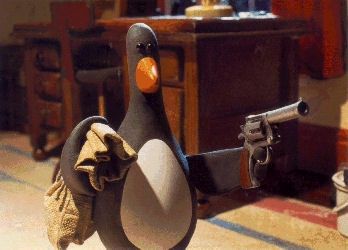 ...because the Three Orange Tabby Cat Gang immediately thinks of a penguin to assist them in their stealings of fish, a plot they would not have had to have hatched had they not spent all their gold coins on movies instead of food. Cats don't plan well.
This penguin is not the heisty type, however, and balks at being part of a criminal scheme, thus the "Peril" part of the title.
It's a crazy story but a giggly story. I figured it was French but it's not. It's British. A crazy, giggly, British story of a bad cat gang and the penguin they emperil.